Ecological Communities: Plant Mediation in Indirect Interaction Webs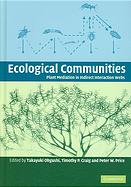 Author:
Takayuki Ohgushi, Timothy P. Craig, and Peter W. Price (editors)
Publisher:
University Press
Decorated boards, 444 p., $150.00
In this highly technical review of the research findings of international scientists in an emerging field, contributing authors discuss the knowledge they gained in the study of plant-animal (mainly insect) interactions and how herbivores affected the traits of the individual plant and ultimately, its ecological community. The editors, prominent ecologists, point out that for a better understanding of an ecological community, there must be greater knowledge about plant-herbivore relationships. This book contains cutting-edge research for the consideration of graduate students and scientists interested in plant ecology.
— Marilyn K. Alaimo, garden writer and volunteer, Chicago Botanic Garden