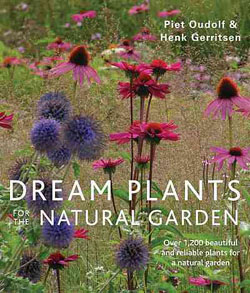 Paper, 144 pp., $29.95.

Two advocates of the naturalistic planting movement, Dutch garden designers Piet Oudolf and Henk Gerritsen (now deceased) have carefully selected reliable plants for schemes that imitate the beauty and bounty of nature. Having created some of the most imaginative gardens in the world, the authors are recognized authorities in this style. The list of plants is divided into growth characteristics—tough plants, self-seeding plants, and troublesome ones. Each, in turn, contains symbols to identify height, degree of sunlight needed for bloom, and time of flowering from early spring to late winter. Individual descriptions contain special comments on such features as color, plant problems, and preferred soils. Each species described includes a color photograph. As if speaking from one gardener to another, the authors include their personal assessments of individual plants.
- Marilyn K. Alaimo, garden writer and volunteer, Chicago Botanic Garden.