Designs upon the Land: Elite Landscapes of the Middle Ages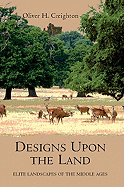 Author:
Oliver H. Creighton
cloth, 256 pp., $80.00
An excellent survey, Creighton's Designs upon the Land clearly recognizes the risks in reconstructing medieval gardens and parks based on incomplete evidence. Taking full advance of recent archeological research, the author makes his case with aerial photographs (12 plates in color), diagrams, plans and well–written text. This work will certainly make you reconsider many modern reconstructions of medieval gardens and landscapes, as well as encourage you to visit many of the sites described in this stimulating work. Highly recommended to anyone with an interest in the medieval roots of landscape architecture and botanical history.
— Edward J. Valauskas, curator of rare books, Lenhardt Library, Chicago Botanic Garden