Designing Greenways: Sustainable Landscapes for Nature and People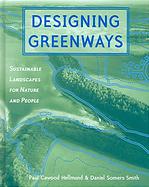 Author:
Paul Cawood Hellmund and Daniel Somers Smith
paper, 270 pp., $29.95
Well-designed greenways, those islands of vegetation that serve to connect fragmented landscapes, address many of the challenges of the contemporary landscape. The authors contend that greenways may provide successful connections between isolated habitats and exposed waterways. If they are well-integrated, such corridors can achieve long-term positive ecological results with natural resources. After a scholarly discussion of the history, design, and functions of greenways, the text reviews their ecological significance to animal habitat, water resources, and society in general. Despite the technical nature of the text, the reader will appreciate the need for well-designed green corridors that improve the quality of life.
— Marilyn K. Alaimo, garden writer and volunteer, Chicago Botanic Garden