Desert Gardens: A Photographic Tour of the Arizona–Sonora Desert Museum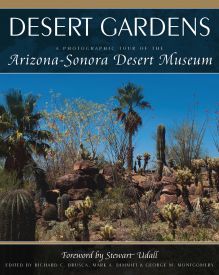 Author:
Richard C. Brusca, Mark A. Dimmitt, and George M. Montgomery (editors)
Publisher:
Cool Springs Press
Cloth, 176 pp., $34.95
This work is a photographic tour of the gardens of the Arizona–Sonora Museum. Set in the desert southwest, a unique landscape region of the United States, and located near wilderness areas from low desert to alpine tundra, the Desert Museum is known for its interpretive gardens, which include different plants and various animals in their distinctive habitats. Gardening and landscape design are challenges in this climate. The museum addresses these issues with an abundance of native desert plants. Contributing authors ably provide essays on different themes in the museum, and entrancing photographs illustrate the story of the museum and its exhibits.
— Marilyn K. Alaimo, garden writer and volunteer, Chicago Botanic Garden