David Hicks: My Kind of Garden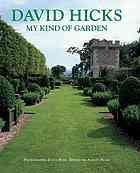 Author:
Ashley Hicks (editor)
Publisher:
Garden Art Press
Cloth, 272 pp., $59.50
Just before his death, British interior designer turned garden maker David Hicks collected a variety of notes on garden design. Edited by his son, this posthumous publication contains his ruminations on gardening. This revealing text includes Hicks' influences and inspirations, descriptions of gardens he particularly admired, and his experience as a garden designer. It is apparent from the extensive selection of photographs that the David Hicks preferred a formal style of design. He noted that: "Romantic profusion, which has a great deal to contribute in garden design, can be allowed to go too far." He professes strong preferences for certain plants and admits to a list of dislikes. The most interesting pages contain his notes with doodles, showing how he would develop a design. David Hicks was a trendsetter in interior design, and this critical review of landscapes provides insights into his philosophy on gardening.
—Marilyn K. Alaimo, garden writer and volunteer, Chicago Botanic Garden