Container Gardening through the Seasons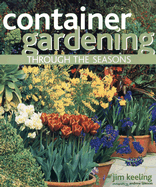 Publisher:
Kyle Cathie Cathie (distributed by Trafalgar Publishing, Independent Publishers Group, Chicago)
A master potter and owner of a famous British pottery, author James Keeling is a recognized authority on containers that enhance the garden setting. In the introduction, Keeling reports on what led him to a gardening career, the history of the creation of simple, utilitarian pots, and the processes that are involved today in their manufacture. Colorful photographs depict the use of pottery throughout the year, focusing on the selection of the appropriate container and plantings that are planned for a specific site and season. The text includes a listing of plantings that are suitable companions for pleasing compositions. This practical, gorgeously illustrated text will be of great interest to all gardeners who strive for artistic ornamentation in garden design.
— Marilyn K. Alaimo, garden writer and volunteer, Chicago Botanic Garden