Conserving and Valuing Ecosystem Services and Biodiversity: Economic, Institutional and Social Changes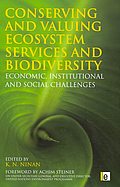 Author:
K.N. Ninan (editor)
decorated boards, 402 pp., $136.50
In his introduction to the subject, editor K.N. Ninan points out that despite positive efforts in conserving the world's resources, "the rate of loss of biodiversity seems to be intensifying rather than receding." Contributing authors from many countries first take on the complex issues of evaluating the worth of ecosystems and consider methods of conservation worldwide. Further developing the subject, the text turns the reader's attention to incentives for payment of ecosystem services; the organizations involved in conservation; and different management issues. There is a discussion of the basic ethics or principles for the use of biological and genetic resources, in addition to intellectual property rights. This scholarly work concludes with the impact of climate change on ecosystems and biodiversity.
— Marilyn K. Alaimo, garden writer and volunteer, Chicago Botanic Garden