Conservation and Biodiversity Banking: A Guide to Setting Up and Running Biodiversity Credit Trading Systems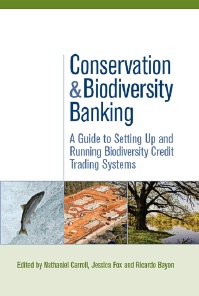 Author:
Nathaniel Carroll, Jessica Fox, and Ricardo Bayon (editors)
paper, 298 pp., $47.95
A comprehensive guide to conservation banking, this book sets forth current practices in this field, as described in essays by experts in a variety of different ecosystems. The overall goal of the work is to ensure that species and ecosystems be recognized for their economic worth to society. Contributors in this volume discuss how these strategies began, what they are, and how they work. In turn, they provide examples through case studies and further guidance though analyses of important aspects, including legal issues, effective practices, and financial concerns when forming and managing conservation banks.
— Marilyn K. Alaimo, garden writer and volunteer, Chicago Botanic Garden