The Complete Houseplant Survival Manual: Essential Know-How for Keeping (Not Killing!) More Than 160 Indoor Plants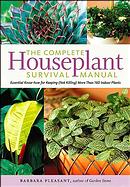 Publisher:
Storey Publishing
paper, 365 p., $24.95
As garden writer Barbara Pleasant points out in this practical manual on their care, houseplants are a relatively recent introduction in the gardening world. Their successful survival indoors demands more than protection from a cold climate. The first step requires that the plant be correctly identified in order that its grower can meet its needs for moisture, light, and general care. To expedite this, there is a color-coded key to assist in classification. The book is organized into three parts: blooming houseplants, foliage houseplants, and houseplant care. Listed alphabetically by botanical name, each houseplant profile includes a full-color photograph, information on plant preferences for light, temperature, fertilizer, water, and soil, as well as repotting, plant longevity and propagation, noteworthy varieties and cultivars, and display tips. When something goes wrong with a plant, the likely solution to the problem can be found in the "troubleshooting" tips that accompany each profile. The chapter on houseplant care is extensive, covering nearly every subject and challenge a gardener might encounter, and it is illustrated with full-color drawings and photographs. A glossary, a list of suppliers, and a cross-reference index complete the volume. High praise goes to the author for this excellent, well-organized reference on common houseplants and their care.
— Marilyn K. Alaimo, garden writer and volunteer, Chicago Botanic Garden