The Complete Compost Gardening Guide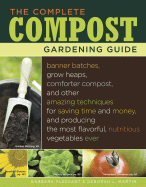 Author:
Barbara Pleasant and Deborah L. Martin
Publisher:
Storey Publishing
Garden writers Barbara Pleasant and Deborah Martin sing the praises of compost gardening in this instructive manual on the value of nature's "black gold." They repeatedly hail the benefits of creating this prime amendment for soils and the various methods that may be employed to produce it. The authors warn, too, of the hazards in recycling certain materials and give basic rules for compost gardening. One interesting chapter contains a review of the necessary tools for this purpose; the dedicated gardener will appreciate these tips that will make labor easier. There is an in-depth discussion of appropriate compost materials; different types of gardening methods from the casual compost heap to bin structures; activators and animal life that will assist in the aging process, and much, much more. This comprehensive work is easy to read and understand for novice gardeners, and brings those with experience tips on the latest techniques in gardening.
— Marilyn K. Alaimo, garden writer and volunteer, Chicago Botanic Garden