Compendium of Rose Diseases and Pests. Second edition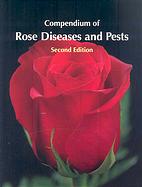 Author:
R. Kenneth Horst and Raymond A. Cloyd
Publisher:
American Phytopathological Society
Serving mainly as an aid for pathologists and other professionals in the diagnosis of rose problems, this authoritative reference provides up-to-date information for the global community concerned with growing roses. The book is timeless in its subject matter, stressing the principles and accepted practices in discussions of pest and disease management. There is no specific information on chemical controls that may become obsolete over time. This technical publication is organized by types of diseases and causal agents. Both colored illustrations and descriptions are employed to assist in identification of both infectious and noninfectious diseases. Insect and mite pests have been included in this second edition, expanding the coverage of pest management. Selected reference materials accompany each section. The appendix contains an index with common and scientific names of diseases and pests; it also includes a useful glossary of terminology.
— Marilyn K. Alaimo, garden writer and volunteer, Chicago Botanic Garden