Cities and Water: A Handbook for Planning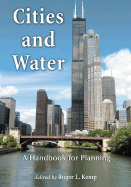 Author:
Roger L. Kemp, editor
Publisher:
McFarland & Co
paper, 231 pp., $29.95
Taking advantage of more than two decades of experience in city management, Roger Kemp has gathered a collection of essays on the water and waste management practices in cities across the nation. The purpose of the text is to provide civic leaders and citizens with information for a better understanding of water-related issues. Leading off the set of papers are subjects that are faced by all communities — the effects of people and the urban environment, the aging infrastructure; regulations and land use, protecting watersheds and safeguarding drinking water; and finally, the relationship of this natural resource to growth. The second part of the text contains case studies of 38 communities with the best practices across the country. The text concludes with an examination of future challenges faced by growing communities.
— Marilyn K. Alaimo, garden writer and volunteer, Chicago Botanic Garden