Bulbs in the Basement, Geraniums on the Windowsill: How to Grow and Overwinter 165 Tender Plants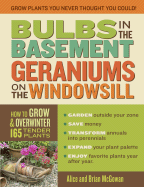 Author:
Alice McGowan and Brian McGowan
paper, 208 pp., $17.95
As this comprehensive handbook points out, tender perennials are those plants that complete their life cycle in more than two years and are native to warmer climates. In order to live, they must have special protection from the cold during the winter season. Both experienced and novice gardeners will profit from this informative resource, written by a couple experienced in growing a wide range of tender perennials in nursery operations in a cool hardiness zone. The engaging text begins with a discussion of these sensitive plants and why gardeners should take special efforts to preserve them from one growing season to the next. The authors explain in detail various methods for nurturing them and any pitfalls a gardener may encounter, such as common pests. An extensive directory of suitable plants provides practical advice on individual species so that all gardeners may enjoy their plants year after year.
— Marilyn K. Alaimo, garden writer and volunteer, Chicago Botanic Garden