Brush with Gondwana: The Botanical Artists Group of Western Australia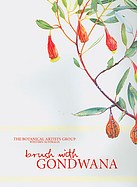 Publisher:
Fremantle Press
cloth, 142 pp., $60.00
A collection of the work of seven botanical artists is exhibited in this book, celebrating plant life in Australia. Originally part of the super continent Gondwana, Australia has distinctive flora, recognized internationally for its diversity. Working with scientists and conservationists, members of this artistic group have captured their subjects in exquisite paintings, inspiring readers to "look more closely at plants in the Western Australian bush." Author Janda Gooding relates the history of Australian botanical art, of the Botanical Artist Group, and of the individual artists. Her description of the amount of effort that a botanical artist puts into each sensitive painting is stunning, sure to provide the reader with greater appreciation for each work.
— Marilyn K. Alaimo, garden writer and volunteer, Chicago Botanic Garden