Biological Control of Plant Diseases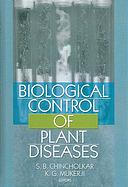 Author:
S.B. Chincholkar and K.G. Mukerji (editors)
paper, 426 p., $49.95
Presenting the findings of international contributing experts in the field of biological controls of insects and diseases of agricultural crops, the distinguished Indian biologists S.B. Chinchokar and K.G. Mukerji express the concern of many when they write, "As biological control alone is the logical path forward for a sustainable ecosystem, there is no viable alternative except to give it a fair chance to prove its ability."
The text of their book, Biological Control of Plant Diseases, offers natural alternatives to the use of synthetic chemicals for a broad spectrum of situations and diseases. Reflecting cutting-edge research, this book provides an excellent summary of information on biocontrol agents for field plant problems.
— Marilyn K. Alaimo, garden writer and volunteer, Chicago Botanic Garden