The Beautiful Edible Garden: Design a Stylish Outdoor Space Using Vegetables, Fruits, and Herbs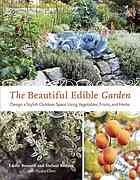 Author:
Leslie Bennett and Stefani Bittner
Publisher:
Ten Speed Press
paper, 212 pp., $29.99
If you want a more attractive, bountiful vegetable garden that is environmentally friendly, consider this manual on designing by landscape designers, Leslie Bennett and Stefani Bittner, who share their knowledge on designing attractive edible gardens with readers. They begin with general design principles before considering the arrangement and selection of plantings, keeping in mind whether they are annuals or perennials. A welcome chapter covers growing site conditions: soil and compost, food and soil safety, soil testing, and choice of materials, light, shade, and water. The remainder of the text is devoted to tips on creating attractive gardens around a residence. Because of climatic difference, the listing of plantings is somewhat limited.
— Marilyn K. Alaimo, garden writer and volunteer, Chicago Botanic Garden