Australian Palms: Biogeography, Ecology and Systematics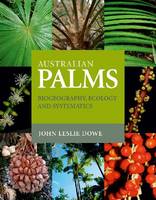 Publisher:
CSIRO Publishing
Paper, 290 pp., $115.00
This definitive reference work contains the most recent advances in research on the Australian palm flora, unique in that it includes representatives of all five palm subfamilies. Beginning with an introduction to the 60 species in 21 genera under discussion, the author first reviews their botanical history and intriguing historical biogeography, as well as their current distribution and ecology. In the following chapters, Dowe explains the systematic arrangement of this flora. Heavily illustrated with color photographs, tables, and maps, the work contains extensive reference materials that include a field guide to identification of species, a checklist of genera and species, a glossary, and bibliography.
— Marilyn K. Alaimo, garden writer and volunteer, Chicago Botanic Garden