The Augustus Botanical Code Rome: Ara Pacis: Speaking to the People through the Images of Nature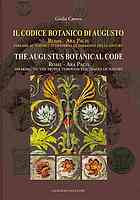 Publisher:
Gangemi Editore
Decorated boards, 223 pp., $35.00
In this bilingual book (Italian and English), research botanist and plant ecologist Giulia Caneva decodes the meaning of plant elements used as ornaments on an important monument in Rome's history, the Altar of Peace. Marking the return to Rome of Octavian Augustus after he pacified northern tribes, this major structure is encrusted with images, which the author analyzes in great detail. Her purpose is "supporting the thesis that the project of the so called 'floral decoration' is indeed an Augustan political message." Her process of interpretation is well laid out for both the research scientist and an interested reader.
— Marilyn K. Alaimo, garden writer and volunteer, Chicago Botanic Garden