Arguments for Protected Areas: Multiple Benefits for Conservation and Use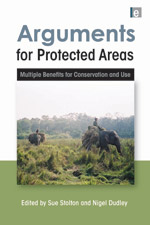 Author:
Sue Stolton and Nigel Dudley (editors)
paper, 273 pp., $39.95
In this survey of international efforts for protected areas, edited by British ecologists Sue Stolton and Nigel Dudley, contributing authors from more than 50 countries examine the benefits of conservation sites. Among the issues in the case studies were the value to local individuals in terms of supporting health and recreation; maintaining purity and quantity of water supplies; safeguarding wild relative species of crops; conserving wild animal resources on both land and water; and maintaining a quality of life through support of cultural traditions. They also discuss the impact of conservation areas in supporting peaceful relations between bordering countries that work toward the same conservation goal for a buffer zone. In addition to recognizing the role of protected areas, the text includes discussions of management options.
—Marilyn K. Alaimo, garden writer and volunteer, Chicago Botanic Garden