The All-New Illustrated Guide to Gardening: Planning, Selection, Propagation, Organic Solutions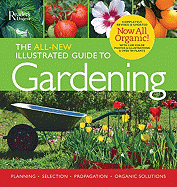 Author:
Fern Marshall Bradley and Trevor Cole (editors)
Publisher:
Reader's Digest
decorated boards, 576 pp., $35.00
This classic, popular reference has been skillfully updated to include the latest information on organic gardening and environmentally friendly solutions to gardening problems. Handsomely illustrated with photographs and colored drawings, the text provides the reader with the fundamentals of plant culture on a wide range of subjects, covering both ornamentals and food crops. Containing an extensive plant directory, it provides expert guidance on the selection of the latest and best plant varieties, as well as how to propagate and maintain them. The individual plant tips noting special requirements, critical assessments, and cautionary remarks make this volume an invaluable aid for all gardeners seeking to create a beautiful garden.
— Marilyn K. Alaimo, garden writer and volunteer, Chicago Botanic Garden