All About Garden Pools & Fountains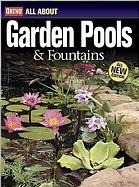 Author:
Denny Schrock (editor)
Publisher:
Meredith Publishing
paper, 127 p., $14.95

For many years, high construction costs and heavy maintenance kept water gardens out of reach of many gardeners. With the introduction of better tools and materials, many water features are now possible in the home garden. As a result, garden pools and fountains are at last becoming popular in America, even in the smallest gardens. This practical manual on planning and maintaining a garden pool and fountain is written for the gardener who wants to add such an element to a home property. Heavily illustrated in full color, the book goes into great detail on water feature selection and placement, materials, supplies, and instructions on construction. The sections on plants, planting, and stocking the garden pool get high marks, too. There is even a chart indicating the right number of fish for a particular size pool. Before a gardener jumps into an elaborate garden pool undertaking, one chapter suggests the "starter garden," a small-scale project that will provide the homeowner with experience before taking on a larger, long-term water feature commitment. Well-organized with the essentials, the guide is noted for its durable, water-resistant cover, so it can be used directly in the garden as a reference.
— Marilyn K. Alaimo, garden writer and volunteer, Chicago Botanic Garden