1000 Details in Landscape Architecture: A Selection of the World's Most Interesting Landscaping Elements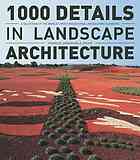 Author:
Francesc Zamora Mola (editor)
decorated boards, 292 pp., $29.95
This work on landscape elements reflects the background and particular interests of its editor, an interior designer and landscape architect. The book is divided into two parts: hardscape — structures, such as walls, paving, fences, decks, bridges, irrigation, pools, and water features; and, softscape — trees, shrubs, groundcovers and plants. Mola admits his priorities when he states, "The materials included here have been selected for their capacity to inspire..." Abundant photographs in this work principally provide ideas for the landscape architect, rather than gardener and horticulturist. In order to achieve the designated number of elements mentioned in the title, the book's designer included photographs with legends in a font size requiring a hand lens to read.
— Marilyn K. Alaimo, garden writer and volunteer, Chicago Botanic Garden