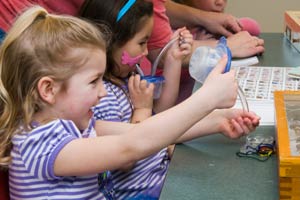 Celebrate your child's birthday with a nature-themed party at the Garden. Choose from a variety of themes. All parties include educational hands-on activities led by Garden staff. Every child takes home a plant plus additional items they've created!
Garden Plus Membership is required.
Party Themes
Bug Suckers (ages 5 & up)
Learn about insects and build a tool to study them up close.
Herb Tea (ages 5 & up)
Mix up a tasty blend to try at the party and some to take home and enjoy.
Pinecone Bird Feeders (ages 4 & up)
Discover what birds eat and construct bird feeders made from plants.
Plant Soaps (ages 6 & up)
Explore how to use plants to get clean and create soap using natural botanicals.
Super Balls (ages 6 & up)
Using the sap from a tropical tree, make a super ball that really bounces.
Model Railroad Garden (ages 4 & up)
Tour our outdoor train exhibition—see model trains and miniature American landmarks made from plants (available second weekend of May through fourth weekend of October).
Wonderland Express Exhibition (ages 4 & up)
Visit our indoor holiday exhibition of model trains and Chicago landmarks (available last weekend of November through first weekend of January).
Join the fun for kids in Chicago's north shore suburbs, and take advantage of the attractions of the Chicago Botanic Garden.