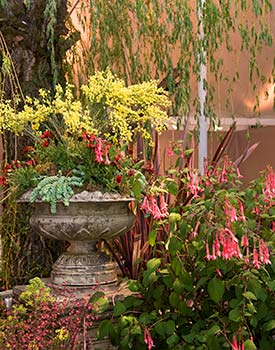 About the Fair
Friday – Sunday, April 19 – 21, 10 a.m. – 5 p.m.
Preview evening, Thursday, April 18, 6 – 10 p.m.
Celebrating 13 years, the Antiques & Garden Fair continues to offer the best in classical and contemporary garden furnishings, botanical art, and home and garden design from more than 100 exhibitors from the United States and Europe. Guests will find a variety of treasures in every price range.
Distinguished Speakers
Honorary chair and guest speaker Michael S. Smith is one of the most original and respected talents in the design industry today. Smith's style is a seamless blend of European classicism and American modernism. In 2010, Smith was appointed by President Obama to the Committee for the Preservation of the White House. His lecture is scheduled for 11 a.m. on Friday, April 19.
Special guest speaker Charles Stick is a renowned Virginia landscape designer who grew up in Western Springs, Illinois. One of the country's leading classicists, Stick formed his philosophy of design at the University of Virginia. The Jeffersonian ideal of a livable, functional, and beautiful landscape in harmony with its architecture is a constant theme throughout his work. His lecture is scheduled for 11 a.m. on Saturday, April 20.
Join us for an exciting panel discussion with style bloggers. Jennifer Boles of The Peak of Chic, Marisa Marcantonio of Stylebeat, and design historian Emily Evans Eerdmans as they discuss color and style inspirations for your home and lifestyle. This panel will be moderated by the delightful Julia Reed. This lecture is scheduled for 2 p.m. on Saturday, April 20.

Special guest speaker Jeanne Pinsof Nolan is founder of The Organic Gardener. She has helped hundreds of families develop gardens that are beautiful, productive, and uniquely suited to their homes and lifestyles. She has also worked extensively with schools, restaurants, nonprofit organizations, and other institutions. Her lecture is scheduled for 11 a.m. on Sunday, April 21.
Treasure Hunting in Style
The Fair will be held in the beautiful Regenstein Center. There will be tents over the Esplanade and the Rose Garden as well as vendors in Burnstein Hall, Runnells and Searle Courtyards, Nichols Hall, Joutras Gallery, and the Greenhouse Galleries.
Display Gardens
This year, the widely anticipated event celebrates "Color in the Garden: An Artist's View." The theme will be interpreted in five display gardens built by local landscapers Craig Bergmann Landscape Design, Inc.; William Heffernan Landscapes; Mariani Landscape; The Organic Gardener; and Maria Smithburg with Manfredini Landscape and Design.
New this year, shoppers may enjoy samples of organically grown wine from Bonterra Organic Vineyards.
For more information, call the Antiques & Garden Fair Hotline at (847) 835-8326.