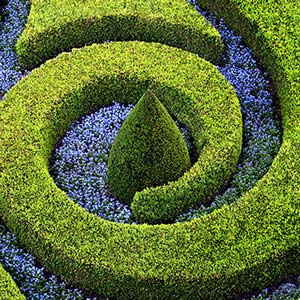 Spring's most anticipated event!
Friday – Sunday, April 17 – 19, 2015
10 a.m. to 5 p.m.

Preview Evening
Thursday, April 16
Ticket Information
Advance (when purchased on or before April 16)
One-day ticket: $12 members/$15 nonmembers
Show weekend (purchased after April 16)
One-day ticket: $15 members/$18 nonmembers
Three-day pass makes sure you don't miss a single booth: $20
Tickets available online and at the Visitor Center
Children under 16 free with an adult
For safety reasons, strollers will not be permitted in the Show.
Valet parking: $10 per vehicle; $5 for seniors, President's Circle members, and those with disabilities. Available Friday – Sunday, 9:30 a.m. to 5 p.m. Regular parking fees apply.
Insiders know that spring is officially here when the Antiques, Garden & Design Show opens at the Chicago Botanic Garden. The Show—formerly known as the Antiques & Garden Fair—has been reinvented for 2015, and promises to inspire stylish living while offering beautiful gardens and objects in a way that transcends the ordinary. It's all about new: stunning new indoor gardens designed by Craig Bergmann Landscape Design, new items—including a horticulture section—and a new, stronger layout. Those attending the Preview Evening will be the first to experience the Show as they enjoy priority shopping and elegant fare; complimentary valet parking is included.
The Antiques, Garden & Design Show is configured in special pavilion tents and is woven through the spaces of the Regenstein Center, allowing visitors to wander aisles of treasures throughout the weekend. New this year, the Rose Garden horticulture tent will turn into a true garden experience. In the horticulture tent, visitors will find tabletop topiaries, potted succulents, heirloom seeds, rustic and contemporary containers, gardening tools and books, outdoor furniture, and much more. Other areas of the Show will include garden antiques, antiques, midcentury modern decor, vintage design items, fine art, and gifts and treats galore in our market courtyards.