annual report 2010

EXECUTIVE SUMMARY
The Chicago Botanic Garden had an exceptional year in 2010—by many accounts the best in the Garden's history. The series of actions initiated in 2009 to drive revenues while at the same time tightly controlling expenses continued to strengthen the Garden's finances and played a major role in its overall success in 2010. A year ago, the Garden celebrated record-breaking attendance, but in 2010 it reached even higher and demonstrated why the Garden is growing in relevance and vitality across the four pillars of its strategic plan: Buildings and Gardens; Marketing and Visitor Experience; Science and Academic Programs; and Education and Community Programs.
Although 2010 was a successful year on many levels, the Garden remains committed to keeping expenses and revenues in balance through the work of dedicated boards, staff, and volunteers; the support of its members and visitors; and the very generous support of donors and the Forest Preserve District of Cook County. A more detailed discussion of the Garden's financial results for 2010 follows.
OPERATING RESULTS
The Garden ended 2010 with an operating surplus of $677,000, following a surplus of $1.6 million in 2009. Operating revenue increased to $29.3 million from $28 million in 2009, an increase of 5 percent. The increase resulted primarily from record membership revenue (ending the year with nearly 50,000 member households), higher Visitor Service revenues, Annual Fund contributions, and several large new grants for Science and Academic Programs and Education and Community programs.
When board-designated and restricted net assets are included, total revenue was $37.5 million, an increase of $0.3 million from the 2009 total of $37.2 million. In addition, the Garden's institutional investments (primarily the endowment) showed a return of $6.5 million, or approximately 14 percent, for the year.
Actual operating expenditures in 2010 were $28.6 million, an increase of $2.2 million, or 8 percent, from 2009. The increase resulted almost entirely from new expenditures funded by the large government grants awarded during the year.
With the inclusion of depreciation, interest expense, major gift fundraising costs, and other designated expenditures that are not included in the operating budget, total expenses for 2010 were $39.6 million, an increase of 9 percent from the $36.4 million incurred in 2009.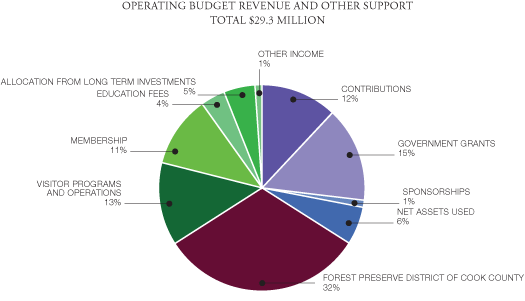 CHANGE IN NET ASSETS
The Garden's Statement of Financial Position reflects an increase in net assets of 1 percent to $131.6 million in 2010 from $130.5 million at the end of 2009. The increase was due mainly to the performance of the institutional investments and the positive results from operations.
The $86.1 million of unrestricted net assets represented the majority of total net assets, while $24.2 million were temporarily restricted, and $21.3 million were permanently restricted. This compares to $85.3 million of unrestricted net assets, $25 million of temporarily restricted net assets, and $20.2 million of permanently restricted net assets in 2009.

Total assets increased from $188.0 million in 2009 to $190.1 million in 2010, an increase of $2.1 million. The increase in asset value was due largely to the increase in the value of the Garden's institutional investments noted above. Total liabilities increased by $1 million to $58.5 million at year-end.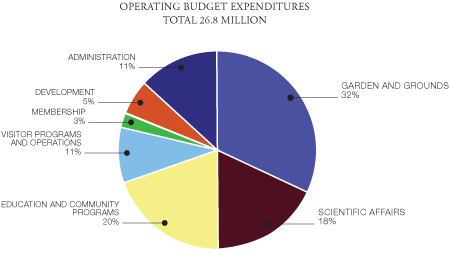 SUMMARY
Record attendance, strong financial results, and the unprecedented growth of its programs in 2010 demonstrates the importance of the Chicago Botanic Garden's core mission. With the support of its board, staff, volunteers, members, visitors, donors, and the Forest Preserve District of Cook County, the Garden will continue to enhance its standing as one of the premier botanic gardens of the world, will keep growing to better serve the needs of its many audiences, and will advance its leadership role in plant conservation education and research throughout the region, the nation, and the world.
STATEMENT OF FINANCIAL POSITION
As of December 31, 2010 (in millions of dollars)


ASSETS
Cash
$0.4
Pledges receivable
14.7
Accounts receivable
2.8
Investments
58.2
Other assets
2.1
Property and equipment
111.9
TOTAL
$190.1

LIABILITIES AND NET ASSETS
Liabilities
Accounts payable and accrued expenses
$3.3
Note payable
2.3
Other liabilities
2.9
Bonds payable
50.0
Total liabilities
$58.5

Net Assets
Unrestricted
$86.1
Temporarily restricted
24.2
Permanently restricted
21.3
Total net assets
$131.6
TOTAL
$190.1
Complete audited financial statements for the Chicago Botanic Garden, including the auditor's report, for the year ended December 31, 2010, are available here.